Training
Training offered by Color Application Specialists certified trainers assures that your team is trained on Konica Minolta Sensing hardware and software solutions. Training ensures personnel of all levels are up to speed; meeting the demanding needs associated with industrial measurement systems. Training is offered in a variety of flexible and convenient formats including on site. Full and half-day options are available.



Color Education Series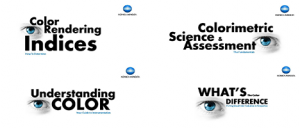 Our Color Education Series serves to provide a platform for color practitioners to understand complicated color concepts in easy to understand language, with a focus to help engineers understand light and color concepts in their interaction with color issues in the workplace.
♦ Precise Color Communication
Basic Color Foundation Module. An introduction on the basic concepts of color science. Color perceptions involving light sources, interaction of light and human eye perceptions will be discussed leading to an understanding of the color standards used in the industry.
Color specifications, tolerance and instrumentation will be introduced to provide the tools in preparing a color control and management program.
♦ Specialised Color Applications
Some frequently requested modules are the challenges of characterization of effect pigment in automotive and coating industries and characterization of optical brightening
agents in the paper and textile industries.
♦ The Language Of Light
Light And Color Foundation Module. This module makes complicated radiometric and colorimetric terminology easy to understand. With a focus on helping engineers understand light and color concepts leading to an appreciation in radiometric and colorimetric science in the information and imaging world.
Get The Picture
Many organizations have benefited from our Color Education Series.
You can contact us at (632) 833-4440 or email us at info@colorapplications.com