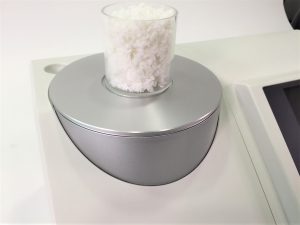 The color of virgin coconut oil is colorless and clear.  In the production of virgin coconut oil (VCO), specification indicates VCO is colorless and clear.  VCO, a colorless and clear pure coconut oil is a high value oil.  It is pressed from fresh mature kernel without heat and chemical treatment and has wide range of applications in cosmetics and food.
VCO consumers look for a colorless and clear oil.  And manufacturers make effort to ensure that VCO is colorless and clear.  A spectrophotometer is used to check the color and clarity of VCO.
Konica Minolta Spectrophotometer CM-5 measures color.  VCO is placed in a cuvettee and positioned in the transmittance chamber to measure color and clarity.  Color can be numercially expressed in the CIE L*a*b* or CIEL*C*h color space.   A general color tolerance adopted by manufacturers is color difference ΔEab 0.5.
Download a copy of how to measure the color and clarity of VCO here.  For more information on measuring VCO color and clarity, write to us.