What is a chroma meter?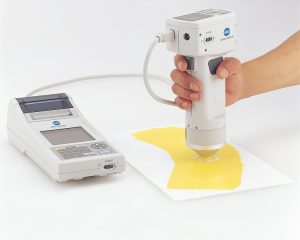 What is a chroma meter?  The Konica Minolta Chroma meter is a meter to measure color or technically a colorimeter.  Konica Minolta range of colorimeters are known as chroma meters.  Developed in the 1980s, the chroma meters went through a series of upgrade.  And today, the Chroma Meter CR-400 and CR-410 are used in food, cosmetics, chemicals, coatings, plastics, automotive interior and exterior color control and management.
An easy to use colorimeter, the Chroma Meter can help start up a color management program easily.  Thanks to the friendly user interface, users can easily measure colors with the popular CIE L*a*b* and CIE L*C*h color spaces.  These color spaces express colors in numbers and are used to communicate colors precisely.  Target colors are memorised and the color difference calculate easily.  The color spaces data are used to monitor color quality.
The chroma meter is portable and designed for on site use.  Low start up cost and easy to use, the Chroma Meter is now in it's fourth generation.
What is a chroma meter?  A precision colorimeter, the Chroma Meter helps improve color quality, yields and branding.