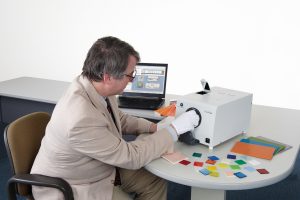 Setting up a color quality program can be daunting as color science or color technology are not taught in schools.  Terms like CIE L*a*b*, whiteness and yellow indices and ΔEab seems foreign.  With technical terms like illuminants D65, A, TL84, d/8, 45/0, geometry, SCE and SCI, it can get complicated and hard to comprehend.
Most color experience are picked up through a project at work.  With some basic understanding, one can get started with color measurement easily.  The first step is to get a basic understanding of color science.  One good way to start is the "Precise Color Communication" reference book.  Next, talk to an experienced provider to walk you through the basics and help you get started on your project.
At Color Application Specialists, we help our customers acquire the knowledge to kick start a color quality program.